DragonRuby Game Toolkit#
DragonRuby-GTK is a professional grade (yet beginner friendly) 2D game engine. It's tiny (~3MB), fast as hell, and cross-platform (including consoles).
Features#
Dirt simple apis capable of creating complex 2D games.
Fast as hell. Powered by highly optimized C code written by Ryan C. Gordon, the creator of SDL (a library that powers every commercial game engine in the world).
Battle tested by Amir Rajan, a critically acclaimed indie game dev.
Tiny. Like really tiny. The entire engine is a few megabytes.
Hot loaded, realtime coding, optimized to provide constant feedback to the dev.
Productive and an absolute joy to use.
Turn key builds for Windows, MacOS, and Linux with seamless publishing to Itch.io.
Cross platform: PC, Mac, Linux, iOS, Android, Nintendo Switch, XBOX One, and PS4 (mobile and console compilation requires a business entity, NDA verification, and a Professional GTK License, contact us).
Get The Toolkit#
You can purchase DragonRuby-GTK on Itch.io.
A 'Free Unrestricted License' is also available.
For more information, please see Licensing Info
API#
The GTK's entire API is displayed here and can be found in the Tech Demo sample app that ships with DragonRuby-GTK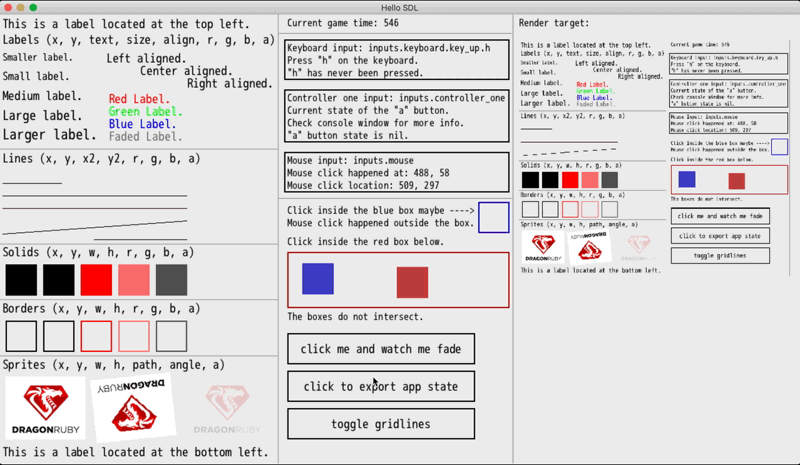 Community#
There are many facets to reach out and communicate with fellow Dragon Riders. Discord being the most popular.

Discord - Amir (one of the creators of DragonRuby) is always available to help you out. So take the time to join the community Discord.

Newsletter - Keep updated with related development news

Forums - This provides community members a registry of everyone using DragonRuby. Itch.io holds a lot of game jams, and it'd be awesome if Dragon Riders had a central place to find each other.